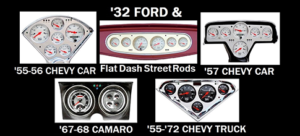 55-57 Chevy Cars, 67-68 Camaro, 55-72 Chevy Trucks, 32 Ford and Street Rods.
We make production gauge clusters for the vehicle groups shown. All panels have full 6 gauges including Tachometer. We have many options so your cluster will be unique to your vehicle. We have LED indicators for automatic transmissions, thus eliminating the needle bump on the column.
To design your own custom gauge cluster, go to the options tab. Besides the production gauge clusters shown, we have made one-offs for some customers. The most recent ones are for a '46 Chevy truck and a '57 Cadillac.
How To Order
1. Review the Option sheet for your panel and write down those that you want, ie: gauge type, panel color and if you want automatic transmission LEDs or not.
2. Call Hampton Engineering (910 270-3117) to discuss the details and to determine exactly what you need. Depending on which engine, transmission and fuel sender you have, some items may vary.
3. Get a quote to determine the price for your custom gauge panel.
4. When you are ready to order call Hampton Engineering and verify the price and get an
Order Number. Your order will be recorded at this point.
5. To pay by credit card (VISA, Master Card, Pay Pal, etc.) come back to this page and
press the Buy Now button. Pay Pal handles the transaction but any card works.
If you want to pay with any card other than Pay Pal just check "I don't have a Pay Pal
account" and then fill out the form.
6. Check 1 required and put in the quoted price. If your card address is in North Carolina
the state sales tax will be automatically added.
7. To pay by mail: send a Cashiers Check or Money Order, made out to Hampton Engineering, to:
Hampton Engineering
147 Pine Needle Drive
Hampstead, NC 28443
If you live in NC add 6.75% to the quoted price for Sales Tax.
Our Location
147 Pine Needle Dr.
Hampstead, Nc 28443
Business Hours
Mon-Sun 9:00am – 5:00pm
Copyright © Hampton Engineering 2016 All Rights Reserved
Hampton Engineering | 147 Pine Needle Dr. Hampstead, Nc 28443 | Phone: 910-270-3117