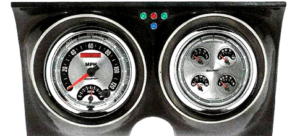 Hampton engineering gauge cluster are made in the USA. Castings are made in California, panels are machined in North Carolina and California, chrome plating is done in Tennessee, and gauges are made in Illinois. 
If you are looking for a precision gauge cluster you are in luck because you are on the page of the best place to get what you need. We here at Hampton Engineering offer precision custom cluster. We are a custom manufacturer with 13 years experience in Hampstead, NC . 

We do handle a lot of chevy clusters, gauges, and panels. However, we handle others too! All you have to do is call us and let us know what you want. We will make sure you get the custom crafted custom cluster you are looking for. We will sit down with you to make sure that the design and materials are selected that you want. Clusters are an important part to a car and they are something that everyone notices first in a car. 

Since we have been in the business so long, if you are stuck as to what to select for a cluster or cluster layout, let us know we can help you come up with some great options. You will just have to be the one to choose which one is the one for you. Our clusters are a great option for those who want to upgrade their current cluster or stock cluster. Sometimes though the standard gauges may not work with the gauge panels you currently have. That is ok, if you need to go that route we can help you with a custom gauge panel also. 

With Hampton Clusters, you will get nothing but the best every time. Once you have utilized our services and have experienced our products you will surely be back. Whether you need one or you need more, we cater to both the individual consumer or restoration shops that rebuild cars and trucks.
Our Location
147 Pine Needle Dr.
Hampstead, Nc 28443
Business Hours
Mon-Sun 9:00am – 5:00pm
Copyright © Hampton Engineering 2016 All Rights Reserved
Hampton Engineering | 147 Pine Needle Dr. Hampstead, Nc 28443 | Phone: 910-270-3117