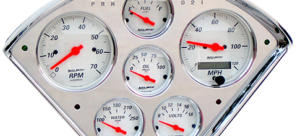 Gordon Hampton founder and president of Hampton Engineering is a retired Silicon Valley Engineer. He graduated from the University of California, in Berkeley, as a Mechanical Engineer. He designed equipment for making silicon chips and integrated circuits, helping to make your phones, Ipads and computers possible. He sold his robotics company in 1998 and decided to pursue his hobby of restoring cars and found that the classic cars used a lot of idiot lights instead of real gauges. Now that these are being restored with large horsepower and expensive engines people wanted tachometers, oil pressure gauges and others. They were adding tachs on top of the dash and gauges under the dash so Gordon decided to make instrument panels that were in the stock location but with all the required gauges to keep the classic car looking good.
We are a pretty straight forward company that has been around for 13 years. We are a company that custom fabricates, gauge clusters, gauge panels and more. While we specialize in Chevy we also cater to Fords, hotrods, and many other vehicles. If you have been on the hunt for any of the items mentioned above. Our services may be a great choice for you. Our gauge cluster can be installed as soon as it is received.
If you are doing a custom build then you already know custom is going to be the best way to go. That way you know the parts will properly tie into the rest of the design for the vehicle you are working on. We offer different types of high-quality materials for the products so you have a great selection to choose from. We can add gauges that your stock dash didn't have. Especially if you have decided to change out that motor to a big boy.
Custom is great if you are adding gauges to something that may not have spots for them in the original dash. That way if you customize the panel it looks like it all blends together instead of looking like an obvious add-on. We can work with your design or if you are not sure what you want to go with we can help you come up with something. We will make sure you get the best price possible that we have to offer you. So let's get down to business, contact us during our regular business hours with your needs and let's get down to fabricating.
Our Location
147 Pine Needle Dr.
Hampstead, Nc 28443
Business Hours
Mon-Sun 9:00am – 5:00pm
Copyright © Hampton Engineering 2016 All Rights Reserved
Hampton Engineering | 147 Pine Needle Dr. Hampstead, Nc 28443 | Phone: 910-270-3117